The Blockchain Simulation – For Business Professionals in Rotterdam
January 15, 2019 @ 5:30 pm

-

7:30 pm
Aimed at: Business professionals, such as executives, lawyers, accountants, and marketers interested in understanding how this new technology will impact their sector.
An engaging 2-hour workshop teaching non-technical business leaders how Blockchain works, in a hands-on, business focused and practical way.
The session will be delivered in Dutch, unless some participants are non-Dutch speakers in which case it will be delivered in English.
Past participants include (this is a small fraction of the many more that have taken part in this one-of-a-kind learning experience!):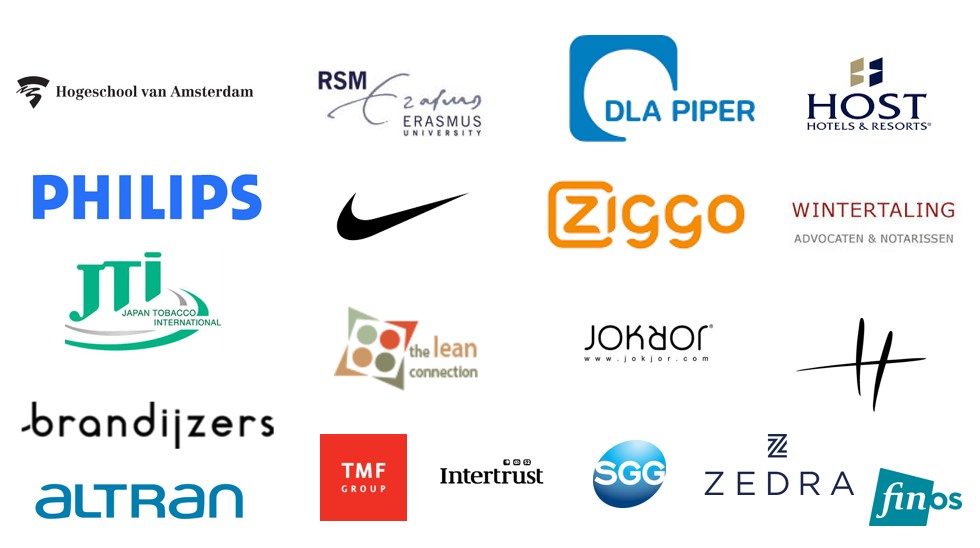 I absolutely recommend this blockchain workshop for new learners. Congratulations for the wonderful work!
— Avogado Fernandes, DCS – Sociedade de Advogados RL
After successfully delivering this learning experience in Amsterdam, London, Lisbon, Jersey, and Malta, we are now bringing the Blockchain Simulation to Rotterdam over a very limited number of days.
Check out the explainer video here.
Blockchain is transforming the way in which organisations operate. It is creating greater transparency, enhanced security, improved traceability, faster transactions and increased efficiency. It is revolutionising practically every sector by streamlining and removing third parties, and has the potential to disrupt the way in which your business operates.
Through learning the mechanics of Blockchain by playing a paper-based role play game, the benefits of the technology will suddenly become very clear. The session is targeted at non-technical business professionals, who wish to learn what Blockchain is and how it could revolutionise the way they work. At the workshop you'll also receive a special offer for our interactive eLearning course.  This will give you the opportunity to build on, and deepen, your knowledge about this technology and how to apply it to you organisation's processes.
AIMED AT:
Those working in the legal sector, interested in learning how Blockchain actually works, through interactive game-play.
Those who are totally new to the technology with NO technical knowledge or experience who want a practical, interactive explanation about Blockchain.
Anyone who is already up to speed on the high-level concepts of Blockchain, but wants to see how it actually works.
Those looking for inspiration on how Blockchain might work for their business.
LEARNING OUTCOMES:
How Blockchain actually works.
How to confidently communicate the impact of Blockchain to colleagues.
How privacy and confidentiality are addressed in the Blockchain.
How to practically apply the concepts to your own business.
Check out the explainer video here.
About the facilitators
Jeroen Perquin, owner Perquin Blockchain Strategies/Blockchain for Financials (www.https://www.blockchainforfinancials.com/)
(English, below)
Jeroen Perquin is een zeer ervaren Finance Executive en eigenaar van Perquin Blockchain Strategies/Blockchain for Financials. Hij houdt zich bezig met het geven van Blockchain trainingen, workshops, advisering en consultancy opdrachten. Zo geeft hij in samenwerking met collega's van de Weconomics Foundation, Blockchain trainingen bij de Verenging van Register Controllers (VRC), Alex van Groningen en 3Masters.
De evaluatiescores van de recent gedane Blockchain Simulatie workshops door Jeroen Perquin liggen tussen de 85 en 90 (van 100).
=========ENGLISH=======
Jeroen Perquin is a very experienced Finance Executive and owner of Perquin Blockchain Strategies / Blockchain for Financials. He is engaged in providing Blockchain training, workshops, consultancy and consultancy assignments. For example, in collaboration with colleagues from the Weconomics Foundation, Blockchain, he provides training courses for the Association of Register Controllers (VRC), Alex van Groningen and 3Masters.
The evaluation scores of the recently completed Blockchain Simulation workshops by Jeroen Perquin are between 85 and 90 (out of 100).